Congratulations to Sierra Schaus, the Fall 2021-2022 Deborah Whale Poultry Award recipiant.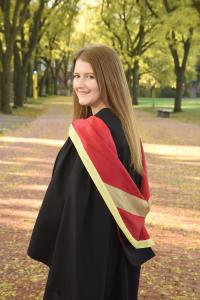 Sierra is holds a B.Sc. (Hons) (Dist) – Animal Biology at the University of Guelph
Bio: I grew up working on my family's broiler barn in Bruce County. This is where my fascination with poultry began. Fast forward a few short years and I enrolled as an undergraduate student in the Animal Biology program at the University of Guelph. From there, I became more interested in every aspect of the poultry industry. In 2nd year, I joined the OAC Poultry Club where I got to learn from industry professionals about a plethora of poultry-related topics. Through this club, I was also able to complete two Artificial Insemination programs in partnership with the Poultry Industry Council. Then in my 4th year, I joined the Bédécarrats lab for a research project course where I looked at the impact of sexual maturation on bone characteristics in three lines of laying hens using CT imaging. This led directly to my current M.Sc. program in the Bédécarrats lab.
She shared with us she is, "very excited to learn more about poultry and hope that my project will be able to help the industry."
PIC is excited and proud to be part of her journey!